Adarsh Marketing is one of India's leading warehousing and logistics service provider. Since its inception in 1984 we have always focused on innovative and proactive solutions in third party logistics. Our various logistic hubs located in Haryana, UP, Delhi, Jaipur offer integrated logistics support services from warehousing, transportation, technical and skilled labour, to equipment, and other operations management.
With more than three decade of experience and industry presence, we are able to save resources, time and money, providing multi-national customers with competitive world-class services in the north Indian region.
We are committed to supply chain excellence, and becoming a trend setter in the freight market. Our responsive and flexible business philosophy has enabled us to service Multinational clients like Amway, P&G, Johnson & Johnson, Lava, Reliance, Amul, Castrol, Asian Paints,Tata, Reckitt Benckiser, Dabur, whirlpool and many more. Our philosophy has also helped us adapt to the fast developing logistic market and keep pace with the intense growth of the sector of last mile delivery.
Today Adarsh marketing has a work force of over 600 employees, with 16 lakh square feet storage and an upcoming 5 lakh square feet ware house in logistic park. We have more than 150 trucks and associate transporters. All our vehicles are GPS enabled and our diesel delivery vehicles are PESO approved as well. We also have a fleet of refrigerated and temperature controlled vehicles. We are working towards enabling QR codes for Electronic proof of delivery
We offer our clients an uncomplicated end to end service taking care of their all-round logistics requirements, giving them the freedom to focus on other core aspects of their business.
We pride ourselves on our excellent customer track record and flexibility with the services we offer our clients.
Why Adarsh Marketing
Simplify your logistics with Adarsh Marketing
State/ Central statutory Compliance
Stocks, Hygine and Environment Compliant
Our Team:
Our ability to deliver outstanding results for our clients starts with our team of smart, capable operations experts. We come from a diverse set of experiences and backgrounds that range from marketing, finance to process management.
Each staff is trained meticulously to understand industry standards and client needs. Employee retention is of prime importance to us and hence, our sole focus of training is increasing team work, improving the efficiency and productivity of our employee. Trainings ensure that all our clients get on time and intact deliveries. The company also conducts self-auditing to take care of GMP warehousing, distribution and general maintenance. The regular reviews help us in maintaining great standards of customer service to fulfil their expectations.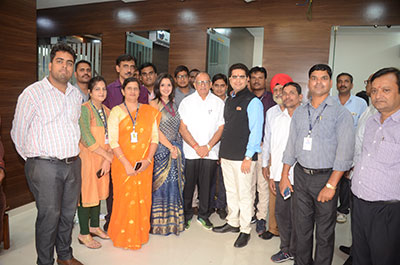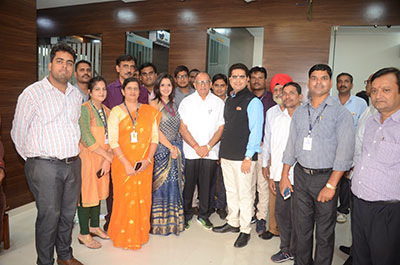 As unique as we are individually, we share a mutual passion for operation management and, doing excellent work for our clients and partners. We pride ourselves on our strategic, integrated approach towards operation, logistics and warehouse management and, the results it delivers.
| Year | Story |
| --- | --- |
| 2010 | Lava International Ltd. – Rajasthan. Whirlpool of India Ltd. – Delhi |
| 2011 | Dabur India Ltd. – Delhi. Michelin India Tyre Pvt. Ltd. – Rajasthan. Tata Pulses- (Packing) Rajasthan |
| 2012 | Base Corporation- Rajasthan, and Haryana |
| 2013 | Neha Herbals Pvt. Ltd.- Rajasthan, Electra Accumulators Pvt. Ltd.- Rajasthan & UP. Ferm Pharma MWH – Haryana, Kriston Energy Ltd.-Rajasthan, Enviroworth Ecosolutions Pvt. Ltd. – Rajasthan & Haryana |
| 2014 | Japan Industries Ltd- Rajasthan; Siddharth Grease – Rajasthan, Grenvo Lubetech- Rajasthan |
| 2015 | EON Electric Ltd. – Jodhpur (Rajasthan), Tata Chemicals Ltd. – Haryana |
| 2016 | EON Electric Ltd. – Kishangarh (Rajasthan), Fieldfresh Foods Pvt.Ltd., Parag MilkFoods Ltd. –Rajasthan, Sresta Natural Bioproducts Pvt. Ltd.- Rajasthan |
| 2017 | Water Health India Pvt Ltd, Leap India Pvt. Ltd, Reliance Corporate IT Park Ltd (Transporation – Rajasthan & Haryana) |
| Year | Story |
| --- | --- |
| 2000 |  Gujarat Milk Mktg. Dairy Fad. Ltd. (Amul) – Uttar Pradesh. Whirlpool of India Ltd. and BPL Engineering Ltd. – Haryana and National Panasonic India Ltd. and Reckitt & Colman of India Ltd. – Rajasthan and Castrol India Ltd. – Uttaranchal State. |
| 2001 | Amway India Enterprises, TATA BP Lubricants India Ltd. and Duncans Industries Ltd. – Rajasthan. Annapur- na Electronics & Services Ltd. – Haryana |
| 2002 | Rockwell Industries Ltd. – Delhi and BPL Soft Energy Systems Ltd., Tata Tea Ltd. and Fleetguard Filters Pvt. Ltd. – Rajasthan. Procter & Gamble – Punjab. |
| 2003 | Tata Chemicals Ltd. – Rajasthan, Delhi & Haryana. Haier Appliances India Pvt. Ltd. – Uttar Pradesh |
| 2004 | Asian Paints (I) Ltd. – Rajasthan & Punjab and Castrol India Ltd. – Uttar Pradesh, Tata Teleservices Ltd. – Rajasthan. Godrej Hi-Care Ltd. – Uttar Pradesh |
| 2005 | Tata Teleservices Ltd. – Delhi NCR |
| 2007 | Moser Baer India Ltd., Mrs. Bector's Food Spl. Ltd. – Rajasthan. Parle Agro Pvt. Ltd. – Uttar Pradesh |
| 2008 | Narang Hospitality Services Pvt. Ltd. – Rajasthan & Utar Pradesh. Glaxo Smothkline Consumer Healthcare Ltd. – Uttar Pradesh |
| 2009 | Castrol India Ltd. – Delhi |
| Year | Story |
| --- | --- |
| 1984 | The Group came into existence. Functioned as distributors at state level for various FMCG companies. |
| 1990 | The Group came into existence. Functioned as distributors at state level for various FMCG companies. |
| 1991 | The Group came into existence. Functioned as distributors at state level for various FMCG companies. |
| 1992 | The Group came into existence. Functioned as distributors at state level for various FMCG companies. |
| 1993 | The Group came into existence. Functioned as distributors at state level for various FMCG companies. |
| 1994 | J. K. Dairy & Foods Ltd. & Bond Street Perf. & Cosmetics Ltd. – Rajasthan |
| 1995 | Gujarat Milk Mktg. Dairy Fad. Ltd. (Amul) – Rajasthan |
| 1996 | Procter & Gamble – Haryana & Punjab, Whirlpool of India Ltd., Heinz India Pvt. Ltd., Milton Plastics Ltd. and G E Lighting Ltd. – Rajasthan. |
| 1997 | Godrej Soaps Ltd. & Godrej Hi-Care Ltd. – Uttar Pradesh and Dabur India Ltd. and Samsonite India Ltd. – Rajasthan |
| 1998 | Dabur India Ltd. – Haryana. Sanat Products Ltd. – Rajasthan |
| 1999 | Castrol India Ltd., Citizen Watches (India) Ltd., Pidilite Industries Ltd., and Modern Dairies Ltd. – Rajasthan. Johnson & Johnson Ltd. – Delhi & Uttar Pradesh. |